Section One: The 'summer feeling' is here to stay
Following a very strong summer season, hoteliers reported that the levels of room nights booked are above last year with a dominant 83% having 'much better' or 'better' levels of business coming through, compared to 64% the previous quarter. In addition to that, only 6% of the hoteliers report that bookings are 'worse' or 'much worse than last year, compared to 15% just 3 months before that and 72%  6 months earlier – indicating that travel recovery is here to stay.
Drilling down to a country level, Greece and Cyprus and Croatia seem to be on a faster recovery pattern than the average, with over 2/3 of the hoteliers reporting booking levels above the previous year. France and Italy also had positive indicators compared to the previous quarter when over 50% of the hoteliers' reported bookings close to or below last year. On the flipside, Tunisian hoteliers are overwhelming concerned as they see business performing slipping below last year (40%) as the country struggled to gather international travellers over the summer.
Section Two: Optimism (almost) all around
Building on the optimistic outlook that the summer brought across the Mediterranean, our barometer now reports that a staggering 61% of the hoteliers have a 'very positive' or at least 'positive' outlook for the next 6 months, the highest % since the beginning of the pandemic and almost 10pp higher than the previous quarter.
Adding to that merely 2% of the responders adopt a 'negative' or 'very negative' outlook, a massive 16pp drop quarter over quarter. Drilling down to country levels Italians (70%), Spanish (80%) and Croatians (66%) are mildly more optimistic than others, with Tunisian hoteliers once again reporting the lowest number (40%) clearly affected by the current status of the business.
Section three: What currently keeps hoteliers up at night?
When it comes to top business concerns of hoteliers in 2021, operational complexity remains top of the list (28%) while we see a big jump in the number of hoteliers who are concerned about new trends in accommodation (23% up from 16% the previous quarter) as various alternative modes of accommodation seems to be back in the consideration set for travellers – clearly, an opportunity for Boutique Hotels to better communicate their unique selling points and refocus their marketing. The increase in costs comes third on their list (19%) with the 'softening of the global economy' coming really close to it (18%) with a staggering jump of 10pp quarter over quarter – as governments are gradually easing on their support schemes and various markets around the world seem shakier than before.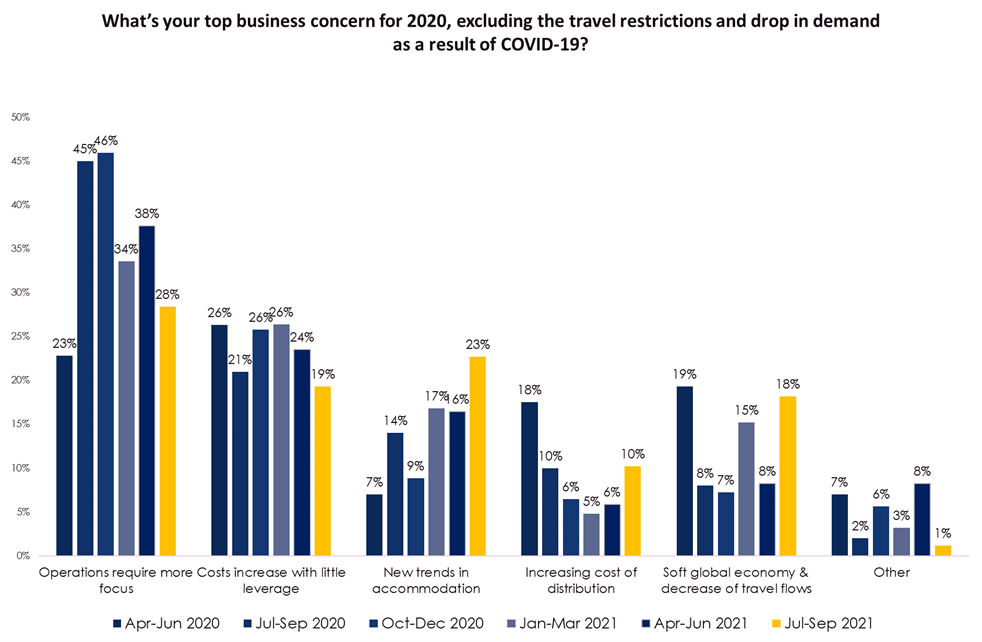 Section Four: Sustainability always a priority for Boutique Hoteliers
Systematically over 70% of the responders stated that sustainability is at the core of their strategy for 2021 onwards. The Boutique Vibe is committed to helping hoteliers on creating awareness and proper communication around sustainability, by launching our sustainability ranking and doing a detailed and thorough report on every hotel's sustainability initiative we actively step in to support our members. We use symbols of Mediterranean nature – Thyme, Citrus, Fig, and Olive to indicate hotels sustainability (by growing order), based on our observations and information provided by owners. We evaluate the eco-friendliness of the building and its operations. We also pay great attention to the owners' effort to preserve the local heritage and support local economies.
Drilling down to the specific areas of sustainability, reducing energy and water consumption tops the list (66%), followed by reducing waste and water consumption (40%) and promoting local identity (39%).
Section Six: Investment – investing into a brighter future.
The positive booking trend and optimistic outlook also translate into further business confidence as 2/3 hoteliers plan some kind of investment. The majority (53%) plans minor investments (up to $50,000) while 14% of the responders answered that they plan major investments. Notably, the number of hoteliers that plan no additional investment at all dropped to the lowest levels it's been since Apr-Jun 2020, further reinforcing the positive developments in the sector.
About this report
The Boutique Vibe Barometer is an ongoing assessment of hoteliers' sentiment across the Mediterranean.
The survey was answered by several small boutique hotels from Greece, Italy, Croatia, Cyprus, France, Spain, Malta, Morocco, Tunisia, Turkey, and Albania.
Hoteliers were prompted about their business performance and concerns concerning the COVID-19 pandemic and their ongoing business plans & challenges.
Previous reports:
You can compare the hoteliers sentiment in Q1-2020, Q2-2020, Q4-2020, Q1-2021 and Q2-2021